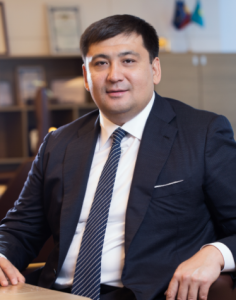 ZHANAT TUSSUPBEKOV
Chief Executive Officer
Mr. Zhanat Tussupbekov has a solid professional experience in managerial positions, having spent the past 11 years in the oil and gas industry. Since May 2012, Mr. Tussupbekov is holding the position of Chief Executive Officer of KMG International N.V., being also a member of KMG International Board of Managing Directors. Due to his contribution in the management and organization of KMG International, the company has registered record financial and operational results in the last years, being one of the most successful oil companies in Romania and one of the most important players in the Black Sea and Mediterranean regions. Between February 2011 and February 2012, Mr. Zhanat Tussupbekov held the position of General Director and Chairman of the Management Board of KazMunayGas – Refining and Marketing. In 2005, Mr. Tussupbekov was appointed as Executive Director of the Trade House KazMunayGas JSC and in 2009 as General Director of KazMunayGas Onimderi JSC – the retail company responsible for the distribution of petroleum products in Kazakhstan. Starting February 2012, Mr. Zhanat Tussupbekov held the position of Advisor to the Chairman of the Management Board of NC KazMunayGas JSC. Mr. Tussupbekov's education credentials include a Law degree from the Karaganda State University and a degree in Economics from Gumilyov Eurasian National University, ENU, along with a Master's degree in "Chemical Technology of Organic Substances" from the University of Technology and Business in Kazakhstan.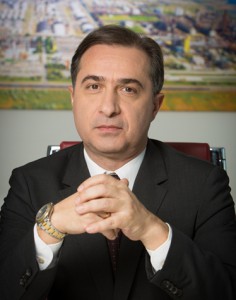 CATALIN DUMITRU
Senior Vice President Operational Activities
Mr. Catalin Dumitru defines and coordinates the implementation of the strategy for the entire operational chain of KMG International: procurement of raw materials and finished goods trading, refining and petrochemicals activities, as well as the distribution of oil and gas products, in order to meet the business objectives. With over 20 years of professional experience, Mr. Dumitru joined the company in 2002 as Chief Financial Officer, responsible for organizing and coordinating the financial activity for two of the Group's companies. On account of his managerial skills, Mr. Dumitru was appointed Deputy General Manager for Dyneff Group between 2006 – 2008 and in 2008 as CEO of Dyneff Group, where he successfully coordinated the storage, trading and distribution of oil products for customers and partners of KMG International in Western Europe. Mr. Dumitru was appointed in 2014 as Vice President, coordinating all operational activities of the KMG International Group.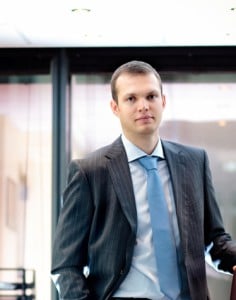 ALEXEY GOLOVIN
Vice President Corporate Development and Strategy
Mr. Alexey Golovin coordinates the strategic development, mergers and acquisitions projects, public relations activities, the relations with governmental authorities and the sole shareholder. Our colleague joined KMG International Group in November 2009 as Group Corporate Governance Director. In 2011 he was appointed as Group Marketing and Corporate Communication Director, being responsible for coordinating the Marketing, Brand Management, Public Relations and Internal Communication functions, later on being appointed as Managing Director of Strategy in 2015. Before joining the Group, Mr. Golovin has held various managerial positions in KazMunayGas Refining & Marketing and in Banking and Financial Institutions. Mr. Golovin graduated from the Faculty of Law "Adilet" and he also holds a Master's degree in Business Administration from the Executive MBA Essec & Mannheim program.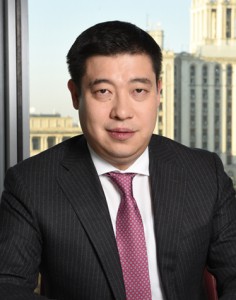 ALMAS LEPESBAYEV
Vice President Finance and Risks
Mr. Lepesbayev provides strategic leadership and vision on financial activities at Group level, ensuring the financial integrity of the entities, and designs efficient risk management strategies. Mr. Almas Lepesbayev joined the Group in 2015 as Vice President of the Corporate Center. He has a considerable professional experience in the financial field, working for over 15 years in top managerial positions: President for Kaztransservice JSC; Chief financial officer for Kazzheldortrans JSC; Vice-president on finance for Kazakhstan Temir Zholy RSE. Mr. Lepesbayev obtained his bachelor degree in Economics from Sh. Ualikhanov State University and a Law degree from the Kazakh State University. He is also certified in Finance from London School of Business and Finance. Having a keen interest in Infrastructure Management, Mr. Lepesbayev received a PhD and the title of Doctor of Transport from the Russian Transport Academy at Siberian Transport University in Novosibirsk. His academic achievements include also 17 publications on Finance and Business Management.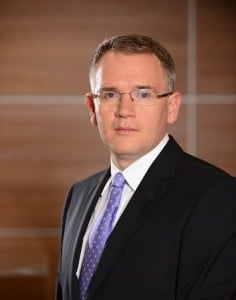 IONEL POPESCU
Vice President Corporate Services
Mr. Ionel Popescu is leading the Corporate Services Block formed of IT, Procurement and Shared Services Center. Shared Services Center consolidates the transactional activity of Finance, Human Resources, Procurement, IT, Administrative and Secretariat. Ionel's main role is to define and coordinate the implementation of the Corporate Services strategy aiming to increase the efficiency and effectiveness of the services through innovation and continuous improvement. Our colleague has joined the Group KMG International in 2010 on the position of Group Risk Director and later Group Corporate Finance Director. Starting October 2015 Ionel was appointed Managing Director Shared Services Center establishing and leading the Shared Services Center organization. He has completed his studies in Finance and Accounting area at Bucharest Academy of Economic Studies, and the CFA Institute becoming a Chartered Financial Analyst (CFA).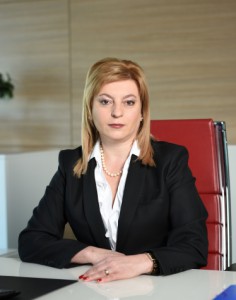 MARIANA DURLESTEANU
Chief Financial Officer
Mrs. Mariana Durlesteanu has over 20 years of experience in finance, both in the private and public sectors. Before joining the management team of KMG International, Mrs. Durlesteanu held the position of Senior Banker for the European Bank of Reconstruction and Development for almost two years. She worked for the Ministry of Finance in the Republic of Moldova where she held various official positions for almost seven years. In 2004, Mrs. Mariana Durlesteanu was the ambassador of the Republic of Moldova to the United Kingdom and Northern Ireland, until she was appointed as Finance Minister of the Republic of Moldova from March 2008 to September 2009. Mrs. Durlesteanu graduated the Faculty of Economics within the Babes-Bolyai University in Cluj-Napoca, followed by a Master in Business Administration organized by the International Development Center. She continued her studies at the School of Management in Bled, Slovenia and at the University of Westminster in London, where she specialized in Economic and Government Reform.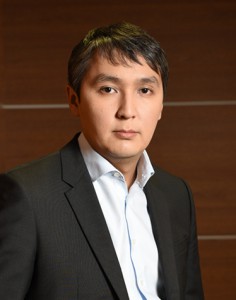 BAURZHAN NUGUMANOV
Chief Officer CEO Block
Mr. Nugumanov has the responsibility of defining and implementing the business strategy for the CEO Block in order to meet the business objectives. With more than 10 years of experience, Mr. Nugumanov has joined the Group in 2011 as Advisor to Group CEO. He has been holding top management positions within the Divisions of Corporate Support, Finance and Business Transformation where he held the position of Vice President Transformation. He also defined and implemented the business strategy for the Retail Business Unit in line with the KMG International strategy, from his previous position as Chief Retail Officer. Before joining KMG International Group, Mr. Nugumanov had acquired a valuable professional experience, holding the position of Manager of Corporate Finance Department within NC KazMunayGas JSC and subsequently Director of Asset Management Department within KazMunayGas RM. Mr. Nugumanov has graduated from Economic University in Kazakhstan, Credit and Finance, with a Bachelor's degree in Finance and holds a Master's Degree in Finance from the London Guildhall University, International Banking and Finance.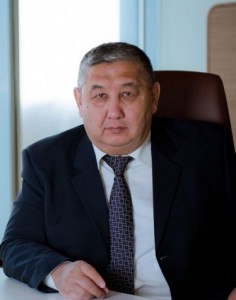 SADUOKHAS MERALIYEV
Chief Production and Industrial Services Officer
Mr. Meraliyev defines the strategy and ensures the operational management for the Refining and Petrochemical Business Units follows KMG International's strategy. He has 36 years of experience in the oil and gas industry and has held senior management positions in several companies in the field. Since October 2012, Mr. Meraliyev was appointed as the Adviser to the CEO of KMG International Group, contributing to the positive financial and operational results reported by the company in the last years. Between 2008 and 2012, Mr. Meraliyev held positions of Deputy CEO and then CEO of KMG International Group. His extensive experience in the oil and gas field includes an important contribution to the development of Atyrau and Pavlodar refineries and projects implemented in many companies: NC KazMunayGas JSC, Kazakhoil, Tengizchevroil JV. Mr. Meraliyev graduated from the Moscow University of Oil and Gas Industry, followed by a degree in economy from the Institute of Finance and Economy in Moscow. He has completed his academic curriculum by studying business management at the University of California and mastered his language skills at the Berlitz Language Center in Walnut Creek.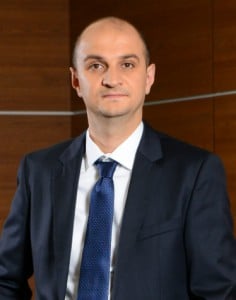 CLAUDIU MIHAI CONTANU
Chief Trading & Supply Chain Officer
Mr. Contanu develops and implements the business strategy for the Trading & Supply Chain Business Unit, in order to achieve the objectives set in the strategy of KMG International Group. He has joined the Group in 2007, holding the position of Director of Planning and Performance Management within the Trading Business Unit, continuing in 2010 this activity at Group level. In 2012, Mr. Contanu was appointed Managing Director Supply Chain, ensuring effective distribution of products to the final consumer. In 2015, Mr. Contanu held the position of Managing Director Trading, providing raw materials to the three production units of the Group, Petromidia and Vega refineries and petrochemical division, and also the sale of final products. Prior to joining our team, Mr. Contanu held various jobs in finance within multinational companies. He graduated in 2002 the Faculty of Finance, Insurance, Bank and Stock Exchange within the Academy of Economic Studies in Bucharest and holds a Master's Degree in Financial Management and Financial Markets, from the same institution. Between 2004-2006, he attended the Romanian-Canadian MBA with a diploma in Finance.
Gabriela Budişteanu
Chief Marketing Officer
Gabriela Budişteanu defines the marketing strategy, having as responsibilities to develop Group activities in her area of expertise in all countries where the company operates. Mrs Budișteanu has an important role in motivating complex teams to achieve important results in a very dynamic market. Her area of responsibilities covers a range of activities: brand management, marketing communication, market research & innovation, loyalty and also development of products and distribution channels to meet the needs of customers from all markets where the Group has marketing activities. With a career of more than 15 years in Marketing and Communication, Gabriela Budişteanu contributes to the development of KMG International's long-term marketing strategies and vision, focusing on the shift from product centric to customer centric approach. Mrs. Budişteanu joined the company in 2008 as Brand Building Manager and based on her analytical and creative qualities but also on leadership and planning skills she was appointed as Group Marketing Manager and Group Marketing Director.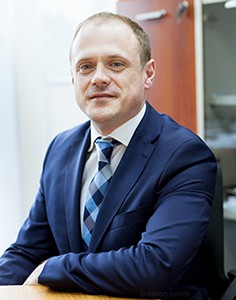 Vladislav Rusnac
Chief Retail Officer
Mr. Rusnac defines and implements the business strategy for the Retail Business Unit in line with the KMG International strategy. With more than 11 years of experience, Mr. Rusnac joined the Group in 2006 as Chief Financial Officer at Rompetrol Ukraine. He has held multiple top management positions within BUs Retail and Trading, such as General Manager Rompetrol Ukraine, General Manager Rompetrol Moldova, Managing Director Retail Near Abroad Countries, acting as General Manager Rompetrol Gas and he also holds the position of General Manager Rompetrol Downstream (Romania) at the present time. Before joining KMG International Group, Mr.Rusnac acquired a valuable professional experience, working as Finance and Treasury Manager and Financial-Economic Systems and Processes Manager at Moldovan subsidiary of Gas Natural Fenosa (Spain), as well as a Consultant at Moldovan subsidiary of Soluziona (Spain) and at Raiffeisen Investment AG. Mr. Rusnac graduated from the Academy of Economic Studies of Moldova, with two Bachelor's degrees -in International Economic Relations and Banking and Finance.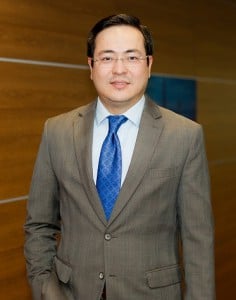 ISKANDER ABDIBAITOV
Chief Corporate Development Officer
Mr. Iskander Abdibaitov was appointed as Chief Corporate Development Officer to coordinate mergers and acquisitions and corporate development activity within the group. Previously, Mr. Abdibaitov held the position of Director of oil and gas division at JSC National Wealth Fund "Samruk-Kazyna", where he was in charge of coordinating the development of the "National Company "KazMunayGas" from shareholder's perspective, implementing measures towards increasing the shareholder's value, ensuring alignment of "KazMunayGas" strategic goals with the shareholder's expectations, as well as coordinating M&A projects related to KMG assets. Prior to this position, Mr. Abdibaitov had been involved in several management positions within "National Company "KazMunayGas". His work with "KazMunayGas" Group began in 2010 and through the years he served as a Chief Manager of the Overseas Projects Management Department, followed by the Chief Coordinator position for the Foreign Investments Management Department until 2012, and Deputy Director of the Assets Management Department until 2016. A lawyer by profession, Mr. Abdibaitov holds a Bachelor of Law degree from the American University of Central Asia, a Master of Laws (LLM) in American Law from the Indiana University School of Law in Indianapolis, and a Master of Business Administration (MBA) degree from the Geneva Business School in Switzerland.
MURAT AMIRKHANOV
Chief Legal Officer
Mr. Murat Amirkhanov coordinates the strategic directions of both Legal and Corporate Governance departments within KMG International Group. Mr. Amirkhanov has joined the company in 2017, within the Representative Office of KMG Rompetrol in Kazakhstan, holding the position of Advisor to Head of Representative Office. Previously to being hired within the company, Mr. Amirkhanov has held the positions of Chief Lawyer within Kazakhstan Branch Office of KMG Global Solutions B.V., Managing Director within Baiterek - National Managing Holding Company and Managing Director within KazTransGas. Mr. Amirkhanov has graduated the Academy of Jurisprudence "Adilet" of Kazakhstan, specialized in the area of jurisprudence.