The pillar of the refining industry
The largest refinery
in Romania and one of the
most advanced
in South Eastern Europe.
Petromidia contributes significantly to the growth of Rompetrol's activities in Romania and in the Black Sea region. The refinery is the link between the Operations divisions of Trade & Supply and Distribution of fuels to Rompetrol retail stations in Romania, Moldavia, Bulgaria and Georgia.

Strategic position on the Black Sea
Petromidia is strategically positioned in Navodari, on the Black Sea Coast, 20 km near the port of Constanta.
Petromidia uses its proprietary railway logistics, has access to the Danube-Black Sea channel and many facilities in the Midia Port: wharfs 1-4 for crude and oil products and wharfs 9 (A, B and C) for exports of oil products.
The most important logistics asset of the refinery remains the proprietary off-shore sea terminal that can receive up to 160,000 TDW. Through this terminal and the entire logistic system put in place by the company in the region, Romania can become and energy hub, a platform between Asia's natural resources and Europe's demands for processing raw materials and obtaining oil products.

A complex refinery
Petromidia has a 11.4 Nelson complexity index and processes crude with a high content of Sulphur to produce only Euro 5 products.
The refinery has the highest yield of white products in the region (over 85%), ranking 9 among the 250 refineries in Europe and Africa*.
To reach the current level of complexity and to fully comply with EU environment regulations, over USD 450 million have been invested in the refinery.
Petromidia is aligned to BAT standards (Best Available Technologies) and the first Romanian refinery to comply with EU environmental regulations and fuel quality standards.

Digital transformation

Rompetrol Rafinare will invest 4 million USD for implementing a digital solution aiming at identifying optimal conditions for increasing the capacity, product quality improvement and reducing energy consumption in Petromidia refinery, Navodari.
All these aspects lead to the fourth industrial revolution – Industry 4.0, and Rompetrol continues to be a local pioneer by launching a comprehensive digital transformation program at the Petromidia refinery in Navodari.
The implementation of the digital solution - Advanced Process Control (APC) began in 2017 as a pilot project at the Atmospheric and Vacuum Distillation Unit (DAV) – one of the most important units in the processing of crude oil that ensures the raw material for the rest of the installations from the refinery.

Find out more about APC by visiting our press release, here.

Gallery

​​​​​2012 – A new beginning
The modernization and capacity growth program (up to 5 million tons refined per year) was the most important technological project undertaken by the refinery between 2008-2012.
The new configuration of the refinery has led to:
Operational growth of refining capacity to over 5 million tons/year
Meeting EU and Romanian standards for fuel quality (Euro 5)
Increased Diesel yield from 37% to 45% (or with 8%)
Meeting EU and Romanian environmental regulations (BAT)(Directive 70/220/EEC)
Growth of mechanical availability and reliability

Key Figures
Results 2019
The Petromidia Năvodari refinery continued its production optimization programs and managed, in 2019, to complete a series of new investments, meant to bring more value to the operational processes (new system for liquefied petroleum gas recovery, modernized in-line blending units or digitizing processes by implementing Advanced Process Control). The programs initiated in 2014 aim, among other things, to increase the yield of white products, to reduce the technological loss or to optimize the operational costs.

Read more about the financial and operational results in 2019.
Results 2018
The Petromidia Năvodari refinery recorded 11 new operating records last year, with historical levels reached on processed raw materials, petroleum products, gasoline production and diesel fuel, fuel for aircrafts, white product yields, refining capacity utilisation. These include the improvement of the energy efficiency index and the reduction of technological losses.
In its 40 years of activity, the refinery saw a continuous development of its production activities due to major investments: from a quantity of raw material processed in 1979 (commissioning time) of 1.26 million tonnes to 3.82 million tonnes in 2007 (the time of acquisition by KazMunayGas) and 5.92 million tonnes in 2018.
At the same time, the production of fuels (gasoline and gas oil) had a similar trend, both in qualitative - from non-euro products, Euro 1 (5,000 parts per million sulphur) to Euro 5 (10 parts per million sulphur), and quantitative terms from 560 thousand tonnes in 1979 to 2,53 million in 2007 and 4,1 million tonnes in 2018.

Read more about the financial and operational results for 2018.

2018 - Historical record of raw material processed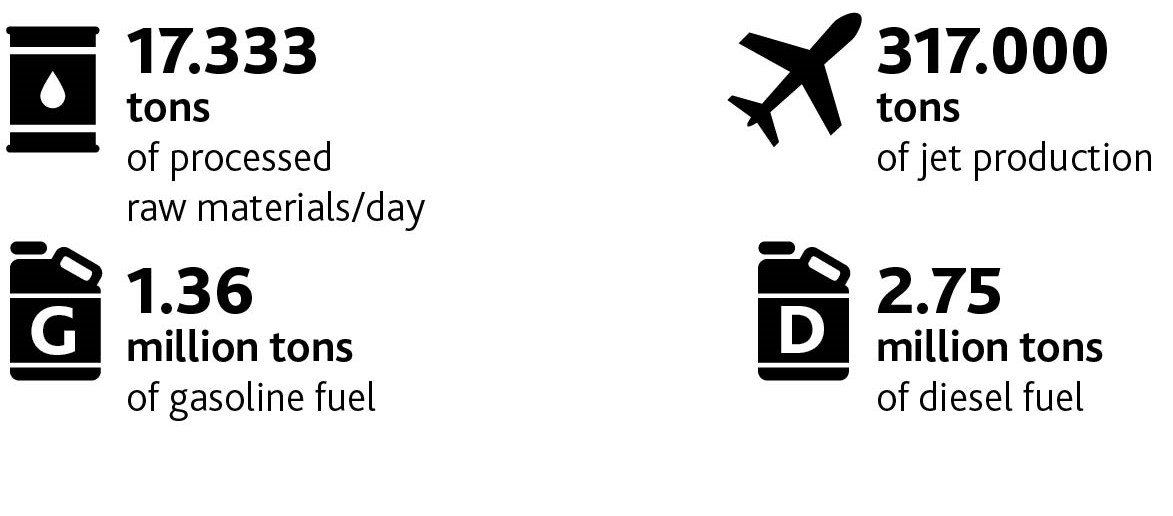 2017 - Third year with record operational indicators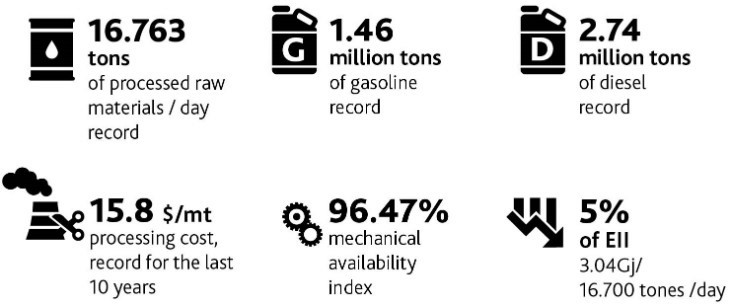 2016 - Record operational results

| | | | | | |
| --- | --- | --- | --- | --- | --- |
| Key Business Drivers | 2014 | 2015 | 2016 | 2017 | 2018 |
| Total feedstock processed | 13.840 tons/day | 15.000 tons/day | 15.750 tons/day | 16.763 tons/day | 17.333 tons/day |
| White products yield | 85.7 % | 85.7 % | 85.1 % | 86.3 % | 86.2 % |
| Diesel yield | 48.8 % | 50 % | 47 % | 48.4 % | 46.5 % |
| Jet yield | 3.4 % | 4.5 % | 4.4 % | 4.4 % | 5.4 % |
| Energy Intensity | 98.5 % | 98.6 % | 97.93 % | 99.96 % | 96.2 % |
| Mechanical availability | 95.7 % | 96.5 % | 96.9 % | 96.47 % | 91.98 % |

For more information, visit: www.rompetrol-rafinare.ro