The pillar of the refining industry
The largest refinery
in Romania and one of the
most advanced
in South Eastern Europe.
Petromidia contributes significantly to the growth of Rompetrol's activities in Romania and in the Black Sea region. The refinery is the link between the Operations divisions of Trade & Supply and Distribution of fuels to Rompetrol retail stations in Romania, Moldavia, Bulgaria and Georgia.

Strategic position on the Black Sea
Petromidia is strategically positioned in Navodari, on the Black Sea Coast, 20 km near the port of Constanta.
Petromidia uses its proprietary railway logistics, has access to the Danube-Black Sea channel and many facilities in the Midia Port: wharfs 1-4 for crude and oil products and wharfs 9 (A, B and C) for exports of oil products.
The most important logistics asset of the refinery remains the proprietary off-shore sea terminal that can receive up to 160,000 TDW. Through this terminal and the entire logistic system put in place by the company in the region, Romania can become and energy hub, a platform between Asia's natural resources and Europe's demands for processing raw materials and obtaining oil products.

A complex refinery
Petromidia has a 10.5 Nelson complexity index and processes crude with a high content of Sulphur to produce only Euro 5 products.
The refinery has the highest yield of white products in the region (85%), ranking 9 among the 250 refineries in Europe and Africa*.
To reach the current level of complexity and to fully comply with EU environment regulations, over USD 450 million have been invested in the refinery.
Petromidia is aligned to BAT standards (Best Available Technologies) and the first Romanian refinery to comply with EU environmental regulations and fuel quality standards.

Gallery

​​​​​2012 – A new beginning
The modernization and capacity growth program (up to 5 million tons refined per year) was the most important technological project undertaken by the refinery between 2008-2012.
The new configuration of the refinery has led to:
Operational growth of refining capacity to over 5 million tons/year
Meeting EU and Romanian standards for fuel quality (Euro 5)
Increased Diesel yield from 37% to 45% (or with 8%)
Meeting EU and Romanian environmental regulations (BAT)(Directive 70/220/EEC)
Growth of mechanical availability and reliability

Key Figures
Results 2018
For 2018, Petromidia proposed to process a total quantity of 5.44 million tons of raw matters against the background of works specific to crude oil refining activities (decoking, regeneration and replacement of catalysts), after it reached in 2017 a level of 5.66 million tons.

Read the
T1 results press release
.
Read the
S1 results press release
.
Read
the 9 months & T3 results press release
.
2017 - Third year with record operational indicators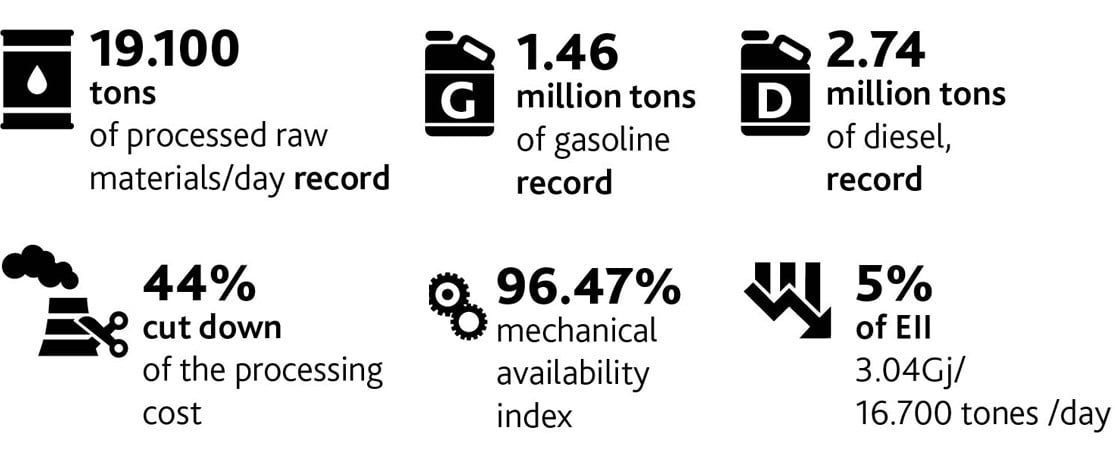 2016 - Record operational results

| | | | | |
| --- | --- | --- | --- | --- |
| Key Business Drivers | 2014 | 2015 | 2016 | 2017 |
| Total feedstock processed | 13.84 kt/day | 15.00 kt/day | 15.75 kt/day | 16.763 kt/day |
| White products yield | 85.7 % | 85.7 % | 85.1 % | 86,3 % |
| Diesel yield | 48.8 % | 50 % | 47 % | 48,4 % |
| Jet yield | 3.4 % | 4.5 % | 4.4 % | 4.4 % |
| Energy Intensity | 98.5 % | 98.6 % | 97.93 % | 99,96 % |
| Mechanical availability | 95.7 % | 96.5 % | 96.9 % | 96, 47 % |


For more information, visit: www.rompetrol-rafinare.ro