Refining and petrochemicals represent one of the main business units of KMG International, keeping the local industry at high standards. It owns two out of four refineries in Romania, the excellence centers Petromidia refinery (Navodari city) and Vega refinery (Ploiesti city) as well as the Petrochemicals division, the sole producer of polymers in Romania.
Petromidia processes mostly Urals type of crude oil, producing exclusively Euro 5 fuels and other very valuable niche products distributed by the Trading and Supply Chain to the Group subsidiaries and other traditional partners.
More than 1.4 billion USD were invested to develop the refining and petrochemicals units starting 2007, along with logistics infrastructure for crude oil supply and delivery of finished products in Romania and the Black Sea region.
These initiatives of assets modernization were undertaken and carried out in a local and international context marked by the financial crisis, the oil and gas sector being among the most affected.

Contribution to energy security
Petromidia and Vega refineries make up 44,6% of the local processing capacity and could fulfill 70% of the current internal demand for diesel and gasoline, since Petromidia has the highest yield of white products in the region (gasoline, diesel and jet fuel).

The diversity of supply sources represents a key element of energy security and the Group's offshore marine terminal has a significant contribution to ensuring alternative supply routes with raw materials.
On top of direct access to crude oil supplies from Kazakhstan, Petromidia has the second largest reserve of oil and crude products in the regulated emergency stockpile.

Economic impact
Rompetrol Rafinare is the third largest contributor to the Romanian budget, with an annual contribution of nearly USD 1.2 billion to the local budget.
By continually investing in its two refineries, KMG International maintains its position as the biggest exporter of oil products and one of the biggest exporters from Romania.

Continuous improvement
We have managed to significantly improve our performance over the past years through constant and consistent investments aimed at increasing our refining capacity and operational results.
As a result of the complex modernization program of the Petromidia refinery and the increase of the processing capacity to more than 5 million tons/year ended in 2012, the Group registered a series of operational and financial records.
Key Figures
Results 2019
Rompetrol Rafinare proposed to exceed the 6 million tons of processed raw materials, which would represent a new record. In what concerns the investments, the company approved a budget of over USD 63 million, of which over USD 50 million will be used for improvement, maintenance and compliance works at the main facilities in Petromidia.
Read the
H1 results press release
.
Results 2018
Year 2018 has become a turning point for the 40-year history of the Petromidia Refinery - raw materials processed, products obtained, processing capacity utilisation degree, reduction of technological losses, improvement of the energy efficiency index or over 2 million hours free of incidents.

Read more about the unaudited results for 2018.

2018 - a year of historical records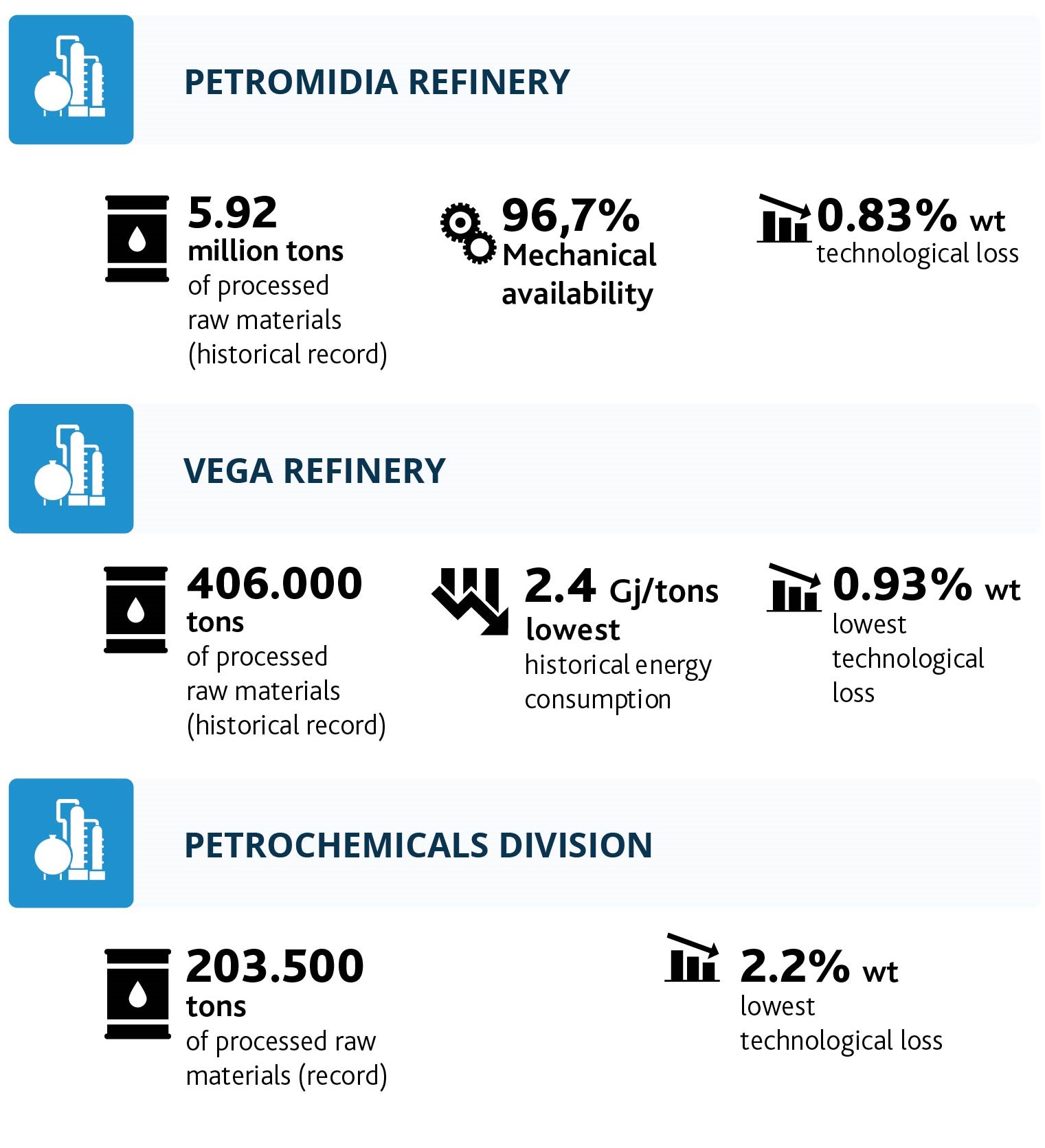 2017 - record operational indicators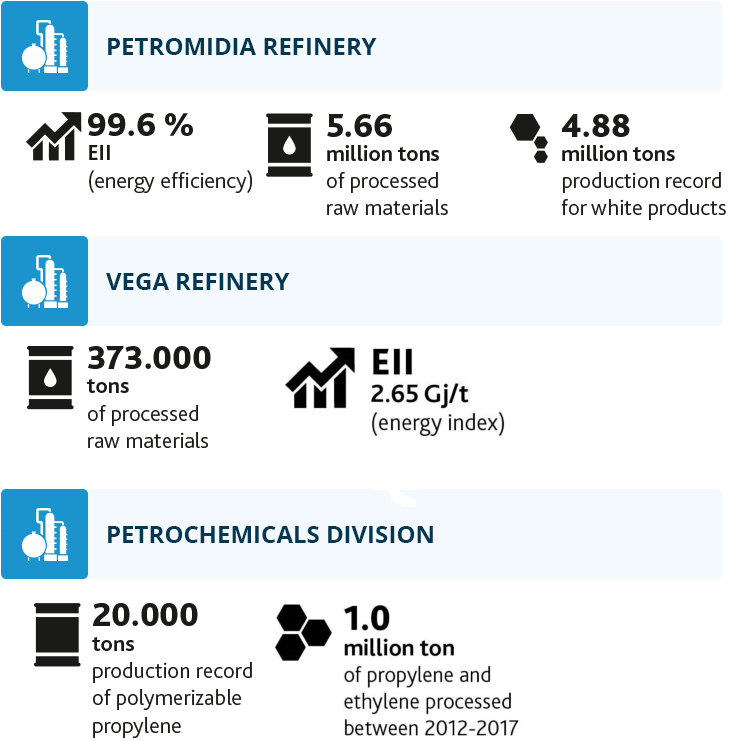 2016 - the best year in the history of the Group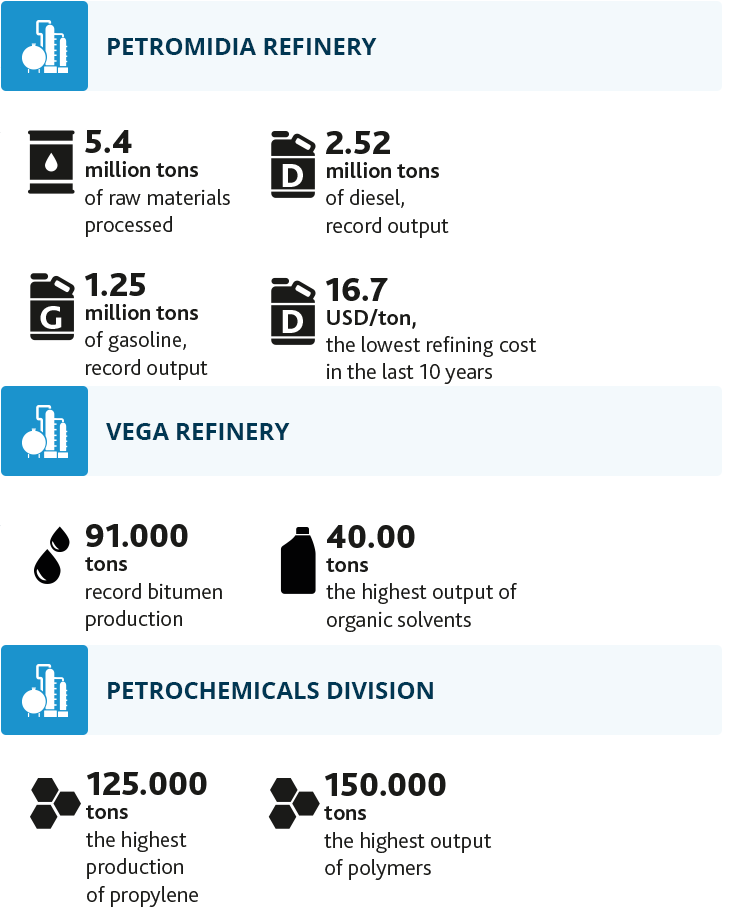 2015 - operational indicators
2014 - operational indicators