The Kazakh Romanian Energy Investment Fund is built upon a transparent investment policy, with clear criteria and mechanisms for evaluating the investment projects, both parties having equal rights to propose projects for financing.
The Board of Directors discussed and approved the main investments of about 230 million USD: the building of a Cogeneration Plant near the Petromidia platform and the development of a chain of gas stations.
Other several investment projects are under assessment.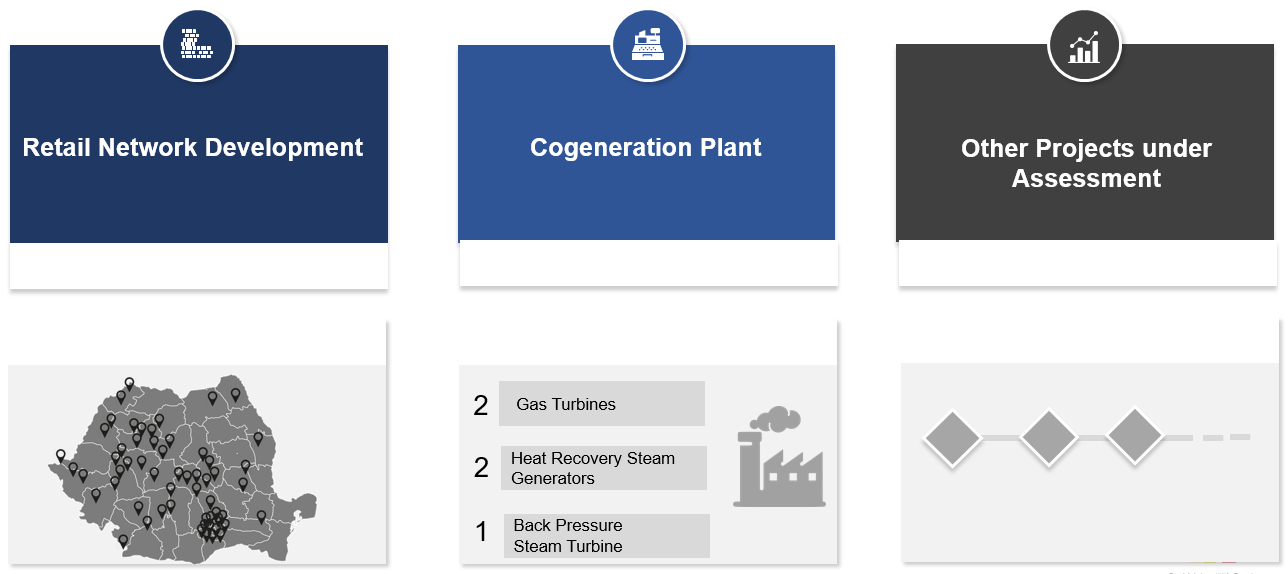 Cogeneration Plant


With an implementation period of four years, the cogeneration plant (which generates combined electricity and heating) will provide electricity and technical steam for the Petromidia platform.
The new plant will comply with the highest technological, energy efficiency and environmental standards, and will be built in cooperation with the Uzina Termoelectrica Midia Power Plant – currently owned by the Ministry of Energy (56.58%) and KMG International (43.42%). It will work with natural gas as main fuel and will be able to produce around 70 MWel power and 180 t/h technical steam for the use of Petromidia Platform processes.
Retail Network Development

Another avenue for investment is the development of the Retail Network. The Kazakh Romanian Energy Investment Fund plans to develop 66 new stations during a 5 years implementation timeline, thus extending its Retail Network from 18 stations currently acquired to 84.
The new filling stations will be operated under the Rompetrol brand and standards and will lead to the creation of more than 1000 new jobs, with a significant number of people being involved in various development stages (design, execution, building) and commercial activities.

The fuel will be supplied by Rompetrol Rafinare - the largest of its kind in Romania and one of the most advanced in the Black Sea region.
The Fund, via the investment driver (SPV) - KMG Rompetrol Development SRL owns 20 fuel stations operated under Rompetrol brand. Until the end of this year, the Fund will complete other 6 new stations in Cluj and Bucharest, the allocated investment level rising up to 8.3 million USD.

See more details in the press release.


Check below the videos illustrating how a station is actually built.