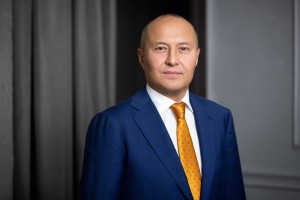 BEIMBET SHAYAKHMETOV
Chief Executive Officer
Mr. Beimbet Shayakhmetov was born in 1969 and graduated from the Kazakh Polytechnic Institute, qualification "Software engineer, automated control systems" and he also holds a Master's degree issued by the Rutgers University (USA). Mr. Shayakhmetov started his career as Manager of the Research, Information and Planning Department within the National Investment Committee. During the period 1998-2000, he held the position of Asset Management Department Director and Investment Department Director within the company "Kazakhoil" CJSC, whereas between 2000 – 2002 he was appointed as Senior Vice-President within the company "UzenMunayGas" PJSC. Between May 2002 and March 2003, he was appointed as Corporate Governance Executive Director within National Company "KazMunayGas" CJSC in Kazakhstan. Between 2003 and 2008, he held management positions, respectively Deputy General Manager within several oil and gas companies, namely: Marine Oil Company "KazMunayTeniz" CJSC, "KazRosGas" JSC and KazTransGas" JSC. As of February 2008 and until 2015, he held the position of General Manager of the company "Asian Pipeline" LLP and he subsequently was appointed as General Manager within the company North West Pipeline "MunayTas" JSC.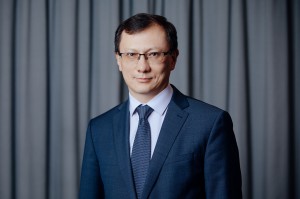 ASKAR ABILOV
Chief Officer Finance & Risk Management
Mr. Askar Abilov provides expertise and strategic leadership in the financial and risk management activities ensuring financial integrity and providing expertise as per best practices in the sector. He overviews financial reports of revenues, expenditures, investments and risk management operations and assists the Chief Executive Officer and top management of KMG International Group in the financial evaluation of the business. Before joining the Group, Mr. Askar Abilov held the position of CFO, member of the Board of the Kazakh – British Technical University JSC in Almaty. His extensive experience in the finance and economic fields is based on different responsibilities he had by holding top management positions in companies like Asia Gas Pipeline LLP, Kaztransgas JSC, Intergas Central Asia JSC, KazMunayGas, Oil and Gas National Company of Kazakhstan. Mr. Abilov holds a Bachelor's Degree (with honors) from Kazakh State National University -International Economics program. In 1999, he graduated School of Arts and Sciences, IDE (International and Development Economics) program, holding a Master of Arts in Economics from Yale University USA.
ARLAN SHABDARBAYEV
Chief Operations Officer
Mr. Shabdarbayev defines the strategy and ensures the operational management for Production and Industrial Services, in compliance with the Group strategy, in order to reach the business objectives and achieve targeted operational and financial results. Mr. Arlan Shabdarbayev has a solid background in the oil and gas industry. In the past ten years, he worked within Pavlodar Petrochemical Plant JSC as advisor to the general director and commercial director. Previously, he acted as First Vice President of Petrokazakhstan Oil Products, also holding different managerial positions and responsibilities in trading and supply companies: KazTransOil National Company CJSC, Oil and Gas Transport National Company CJSC, Trade House KazMunaiGas CJSC. Based on the initiatives and the projects implemented along the years, Mr. Shabdarbayev was awarded for his involvement in the development of Kazakhstan's oil and gas industry. Mr. Shabdarbayev graduated from the Abai Almaty State University, specialty: Law Science, Legal Counselling followed by a Master in Business Administration from Kazakhstan Institute of Management, Economics and Forecasting. In 2009, he completed his academic curriculum by obtaining his PhD in Law.
YEDIL UTEKOV
Chief Officer Production & Industrial Services
Mr. Utekov will coordinate the strategies for developing and implementing the state-of-the-art solutions at the level of Group production entities. He has graduated from the Astrakhan State Technical University, Engineering Chemistry of Natural Resources and Hydrocarbons specialty. Mr. Utekov has joined the KMG International Group in 2011, holding several general management level positions such as General Manager Rompetrol Rafinare between June 2014 and December 2019 and Chief Officer Production. Based on his experience and expertise, Yedil Utekov will remain member of the Board of Directors of Rompetrol Rafinare.
CĂTĂLIN DUMITRU
Chief Officer Retail & Marketing
Mr. Cătălin Dumitru defines and implements the business strategy for Retail and Marketing activities in line with the Group's strategy. With over 25 years of professional experience, Mr. Dumitru joined the company in 2002 as Chief Financial Officer, responsible for organizing and coordinating the financial activity for two of the Group's companies. On account of his managerial skills, Mr. Dumitru was appointed Deputy General Manager for Dyneff Group between 2006 – 2008 and in 2008 as CEO of Dyneff Group, where he successfully coordinated the storage, trading and distribution of oil products for customers and partners of KMG International in Western Europe. Mr. Dumitru was appointed in 2014 as Vice President, coordinating all operational activities of the KMG International Group, followed by the position of Chief Trading Officer.
CLAUDIU MIHAI CONTANU
Chief Officer Trading & Supply Chain
Mr. Contanu is responsible for operational planning, as well as defining the business strategy for the Trading, Supply Chain and Logistics activities, in line with the objectives set in the KMG International Group strategy. He joined the Group in 2007 as Director of Planning and Performance Management within the Trading Business Unit in Switzerland, continuing in 2010 this activity at Group level. In 2012, Mr. Contanu was appointed Managing Director, Supply Chain, implementing the supply chain and logistics strategy by ensuring effective distribution of products to the final consumer. In 2015, Mr. Contanu served as Managing Director Trading, providing raw materials to the three production units of the Group, Petromidia and Vega refineries and petrochemical division and also the sale of final products. Between December 2016 and July 2018, Mr. Contanu was appointed Chief Officer Trading within our Group. Prior to joining our team, Mr. Contanu held various jobs in finance within multinational companies. He graduated in 2002 the Faculty of Finance, Insurance, Bank and Stock Exchange within the Academy of Economic Studies in Bucharest and holds a Master's Degree in Financial Management and Financial Markets, from the same institution. Between 2004-2006, he attended the Romanian-Canadian MBA with a diploma in Finance.
ISKANDER ABDIBAITOV
Chief Officer Corporate Development
Mr. Iskander Abdibaitov ensures the management for the Corporate Development Block, including Public Relations and Internal Communications functions, in accordance with the Group's long term strategy. Previously, Mr. Abdibaitov held the position of Director of oil and gas division at JSC National Wealth Fund "Samruk-Kazyna", where he was in charge of coordinating the development of the "National Company "KazMunayGas" from shareholder's perspective, implementing measures towards increasing the shareholder's value, ensuring alignment of "KazMunayGas" strategic goals with the shareholder's expectations, as well as coordinating M&A projects related to KMG assets. Prior to this position, Mr. Abdibaitov had been involved in several management positions within "National Company "KazMunayGas". His work with "KazMunayGas" Group began in 2010 and through the years he served as a Chief Manager of the Overseas Projects Management Department, followed by the Chief Coordinator position for the Foreign Investments Management Department until 2012, and Deputy Director of the Assets Management Department until 2016. A lawyer by profession, Mr. Abdibaitov holds a Bachelor of Law degree from the American University of Central Asia, a Master of Laws (LLM) in American Law from the Indiana University School of Law in Indianapolis, and a Master of Business Administration (MBA) degree from the Geneva Business School in Switzerland.
ALEXEY GOLOVIN
Chief Officer Corporate Services
Mr. Alexey Golovin defines the strategy and ensures the operational management for Corporate Services unit in accordance with the Group's activity and objectives. Before taking over this role, he managed the strategic development, public relations and legal activities, being also accountable for the collaboration with governmental authorities and the sole shareholder. Our colleague joined KMG International Group in November 2009 as Group Corporate Governance Director. In 2011, he was appointed as Group Marketing and Corporate Communication Director, being responsible for coordinating the Marketing, Brand Management, Public Relations and Internal Communication functions, later on being appointed as Managing Director of Strategy in 2015. Before joining the Group, Mr. Golovin has held various managerial positions in KazMunayGas Refining & Marketing and in Banking and Financial Institutions. Mr. Golovin graduated from the Faculty of Law "Adilet" and he also holds a Master's degree in Business Administration from the Executive MBA Essec & Mannheim program.